The South Mountain Reservation is the jewel of the Essex County Park system. A relatively secluded valley, the Reservation provides 2,110 acres of natural forest—perfect for a temporary reprieve from the bustle of everyday life. If you have been on one of our 50-plus free public hikes this year, walked, run, or skied on your own along its miles of trails, picnicked, visited the dog or sculpture park, or strolled around the Orange Reservoir, you already know this. There is something for everyone. We cannot take this resource for granted, however, and that is where the South Mountain Conservancy comes in.
In 2017, the Conservancy continued its critical stewardship and maintenance of the park. The county – like other park systems across the nation – can no longer maintain the park on its own. Years ago, each county park had a dedicated staff with specialized teams. In 1989, the county's park staff numbered 296. This year, it's 98  (up from 88 the year before). That crew is thinly stretched across more parks, hundreds of additional acres, and dozens of large-scale events that did not exist 28 years ago. Even accounting for more outsourcing, the 2017 park budget is 26 percent less than the 1989 budget in inflation-adjusted dollars.
While the county clears the roads and provides general maintenance (garbage removal, cutting the grass in fields, safety, etc.),  the conservancy  continued to be an essential partner, especially in maintaining and extending the trail system.
The SMC's 16 Trailkeepers, working individually, did blazing, minor maintenance, and monitored conditions.
The Chain Saw Gang, led by Dave Hogenauer, removed dozens of trees that fell across trails.
The Trail Work Crew, led by John Verzani and Dennis Percher, completed in July 2017, after over a year of monthly programs, the half-mile extension of the Lenape Trail north of the reservation through West Orange. In addition, it constructed most of the new West Connector trail, with completion expected early next spring.  These trail building efforts work were assisted during the school year by an outdoor program run by the Student Conservation Association which the conservancy oversees.
Trail Work Crew, Dec. 2017, at switchback on the new West Connector trail 
Besides trails, the park's many picnic areas were cleaned multiple times throughout the year by community groups coordinated by the Trash Tacklers.
On the ecology side of the ledger, the Forest Regeneration Corps' enthusiastic volunteers, led by Tricia Zimic and Tanya Prescott, steadfastly maintained the 14-acre Wildflower and Forest Preserve through its monthly initiatives, and Eagle Scout projects.
Lastly, various Citizen Science initiatives are promoted by the conservancy by Lori Laborde.
Second, the Conservancy continued as a necessary advocate for the park. We monitored infrastructure, environmental conditions and public concerns, identifying problems and making recommendations for improvement – and served as a gadfly to the county to encourage their efforts. Our advocacy role addressed everything from the strategic to the mundane: from supporting the annual deer management program critical to regenerate our over-browsed forest, to re-allocating portable toilets; from identifying park encroachments by adjoining homes that resulted in a county legal suit and ongoing restoration, to identifying dangerous leaner trees over trails for the county to attend to. The county did an excellent job building a new shelter at the Washington Rock-Crest Drive circle in November. The work was done by the county's contractors, but the conservancy promoted the original concept for restoration using tree planting from the South Orange Avenue S-curve project and promoted the shelter designed by board member Willy Weisz. (We also worked with an Eagle Scout who cleaned and repaired the benches and monuments at Washington Rock.) We are the eyes and voice for the public.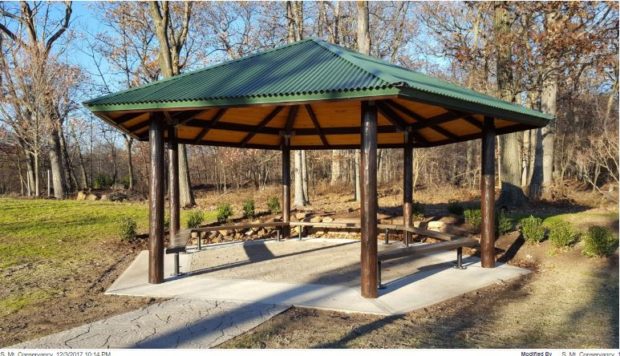 Shelter designed by SMC board member Willy Weisz and constructed the County
fall 2017 across from Washington Rock at the Crest Drive circle.
Finally, we sponsor programs and materials that help the public engage with and appreciate the park. We offered dozens of free hikes each year that encourage scores of people to hit the trail, a program coordinated by David Hogenauer and Gail Waimon. Our fourth SMR Family Campout —– with the great support of the county – created a positive, early experience with nature for 42 families with young children. This was led by Lori LaBorde and Dennis Percher. Our ongoing spring Mayapple Trail Runs challenged 140 runners with distances of 10 to 62 miles. The Wildflower Sculpture Park was curated by Tricia Zimic and visited by hundreds of people.  Finally, after a couple of years of work, we are particularly proud of our brand-new Trail Map designed by Susan Brand, and the exceptional companion Trail Guide by park historian and hike leader Dave Hogenauer.
Starting line for the 10 and 20-mile 2017 Mayapple Trail Runs

Special activities at the 2017 SMR Family Campout
 So, what is planned for next year?
We will offer hikes twelve months of the year, and our calendar is chock full of other events. Our annual public meeting is scheduled for March 15th, and our annual Trailkeepers breakfast for current and prospective volunteers is set for March 24th. After a winter hiatus, our monthly   trail work, forest regeneration, and Trash Tackler programs will start up again. On Saturday, May 19th, our eighth Mayapple Trail Runs will take place and on May 29th a new set of artists will emerge with the spring flowers for the seventh Wildflower Sculpture Park's annual show (artist submissions are due by January 15).  In late September, our fifth SMR Family Campout is planned.
These activities all require volunteers.  This effort, along with the coordination of many groups, is taxing our resources so please consider supporting us. In addition to financial support (it's easy, click on the donate button on the right), we are seeking two more Trailkeepers to join our current cadre of 16 to oversee general monitoring and maintenance of trail segments. We are also looking for a co-coordinator for the Wildflower and Forest Preserve to plan projects, select plants, and oversee volunteer groups as well as a co-coordinator to help organize Trash Tackler groups. As we hope to hire a part-time Program and Marketing Director to take over some of the administrative aspects of the conservancy, we are seeking a corporate sponsor/sponsors to assist (know of any interested sponsors?).
Dennis Percher, Chair, and the Board of Trustees,
John Verzani, Tricia Zimic, Jon Stout, Roger Vellekamp,
Willy Weisz, Lori Laborde, Gail Waimon, Sarah Jane Jelin, and Tanya Prescott