Over the last several years, small "fairy houses" have been secreted at the bases of trees along a half-mile stretch of the white-blazed Rahway Trail starting at the Locust Grove picnic area in the ReservationFairy Trail Rules.  These are mostly the work of a local artist, Therese Ojibway,
These Fairy Houses have been highlighted in the New York Times, online articles, and NJ TV (see below).  If you visit, please respect these fragile structures as some have been vandalized.  While most small doors can be opened to view interiors, please do not touch or remove any items so others can also enjoy these creations. 
On the map below,  the X marks the parking lot and the trail head for the Rahway Trail.  (To get there, put 197 Glen Ave., Millburn, into a GPS.)  While some distant cousins have houses on the nearby Mayapple Falls and Quarry Trails, the community is generally found along the first, southern half mile of the Rahway Trail.  New homes should follow the local fairy house rules: natural materials only, with no plastic or glass and no markings on trees (though some older homes have small green markings nearby).
For  a detailed list of rules in creating houses, click on Fairy Trail Rules.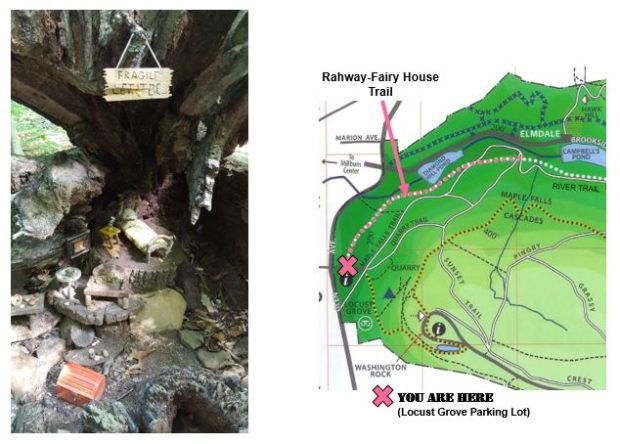 For more information about the houses and the crafts person who built most of them, see:
New York Times article, Thumbelina's Secret Architect, Creating Fairy Houses on a New Jersey Trail  (click on picture)
http://www.nj.com/essex/index.ssf/2016/07/along_the_fairy_trail_the_nj_woman_behind_the_tiny.html
NJTV News: The Millburn section begins at
12:22
minutes.
July 2017 record of a visit to the Rahway Fairy Trail:
http://www.bellewood-gardens.com/