*****************************************
Trail Work Crew 
Weather permitting: Sunday, December 4th, 9:00-12:00 p.m.
Last Activity of the Season

Above, Volunteers for start of West Orange Lenape Trail Extension, Nov. 2015
Meet in front of 2 Ellison Ave. off Route 10/Mt. Pleasant Ave., West Orange. Ages 15+.
The Conservancy is continuing our work just north of the Reservation, helping West Orange construct a half-mile extension of the Lenape Trail.  We started in November (see a picture above) and have much still to do.  In May we constructed 128 feet of bog bridge over wet areas.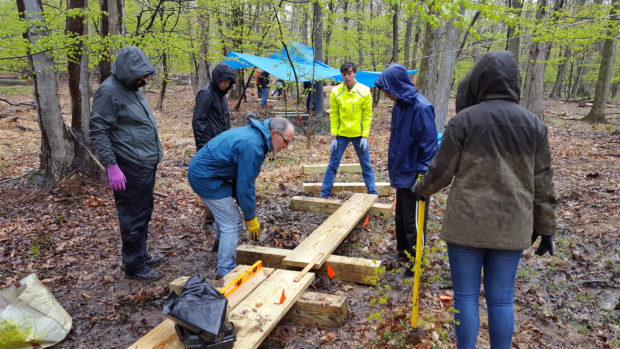 Trail building is very satisfying, but can be hard work. We use hand tools such as picks and adzes to create and shape the trail tread. Wear shoes with solid soles and long pants…dress in layers.  Meet at:  In front of 2 Ellison Ave., West Orange. The trail goes south from there. For information, call John Verzani  (973-223-3529), or Dennis Percher (973-868-6994).
* * * * * * * * * * * * * *  * * * * * * * * * * * * * * * * * * * *
 Mission: Through volunteer activities and advocacy, the South Mountain Conservancy serves as a steward and advocate for the South Mountain Reservation and helps to preserve, protect, and enhance its ecology, infrastructure and natural beauty.
Learn about our 2015 accomplishments and 2016 plans and become a member…. MORE
* * * * * * * * * * * * * *  * * * * * * * * * *
Fairy Houses on Rahway Trail Gain Regional Attention  
Learn more…
* * * * * * * * * * * * * * * * * * * * * * * * * * * * * * * * * *