Mission: Through volunteer activities and advocacy, the South Mountain Conservancy serves as a steward and advocate for the South Mountain Reservation and helps to preserve, protect, and enhance its ecology, infrastructure and natural beauty.
Learn about our 2016 accomplishments and 2017 plans and become a member…. Find out more
* * *
Upcoming Events:
Trail Work Crew
Sunday, August 6th, 9:00 -12:00  
Meet at Essex County Maintenance Area in SMR
After 15 months of effort, we have finished the West Orange Lenape Extension north of the Reservation and are now working on a new trail, the West Connector. This is strenuous, but rewarding. For ages 15 and above.  Wear solid shoes and layers. For information, contact info@somocon.org, or call John Verzani, 973-223-3529. or Dennis Percher, 973-868-6994.Because Brookside Drive is closed to traffic on Sunday mornings, we need to meet at the County maintenance area (see map).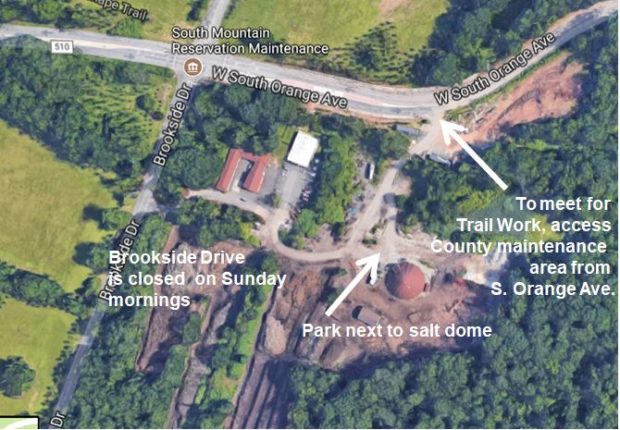 * * *
Forest Regeneration Corps
Sunday, August 20th, 9:30-12:00,
Wildflower Preserve (10 Bear Lane, Maplewood)
 
Help plant native species and remove invasive plants, and maintain trails in the 14-acre Wildflower and Forest Preserve.  Ages 12 and above (adult supervision needed below 15).  Wear long pants, solid shoes, and layers.  For information, contact Tricia Zimic, 973-763-4668.
* * *
Recent Events:
W.Orange Lenape Extension Completed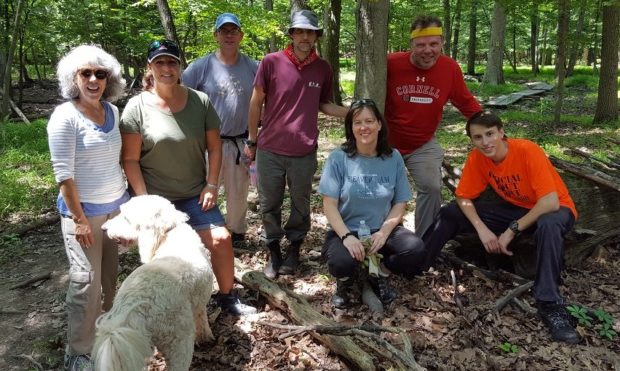 On July 9th, after 15 monthly half-day Trail Work programs starting in November 2015, SMC volunteers completed the missing section of the Essex County Lenape Trail. Immediately above the South Mountain Reservation, the half-mile section stretches from Whitbay Drive to Mt. Pleasant Ave./Rt. 10. The material for a bridge and two dozen bog bridges, (some seen in the background at the upper right), was paid for by the NY NJ Trail Conference from a Lenape Trail fund.  Pictured from left: new Trailkeepers  Donna Brower and Kathy Viggiano,  trail work  co-coordinator John Verzani, along with  Bill Haskins, Denise Paulson, Sean Sullivan, Zachary Davita-Paulson.  Not pictured, Willy Weisz, Hogan Dwyer, and Dennis Percher.
* * *
Wildflower Sculpture Park Opening Held June 9th

* * *
105 in Mayapple Trail Runs May 20th
 Start of 10 and 20-mile races.
Thanks to all who volunteered. 
* * *
Award for SMR Family Campout
Essex County Parks Department and the SMC won a NJ Recreation and Park Association Award for Special Event Programming for their SMR Family Campout, held Sept. 10-11.   The program is an excellent example of the support the Conservancy receives from the County.  In picture, Campout program coordinator and Board member Lori LaBorde holds plaque with SMC Chair, Dennis Percher. 
The fourth annual nature-intensive event for families with young children program will be held October 7-8th (rain date, Oct. 21-22), 2017.  If interested in helping out — and we need volunteers — contact Lori LaBorde at lori.laborde@gmail.com
 * * *
Fairy Houses on Rahway Trail Gain Regional Attention  
* * *
CONTACT US:
P.O. Box 273, South Orange, NJ 07079
844-SOMOCON
info@somocon.org