Registration is Still Open!
Present the
2017 SMR Family Campout
When:  Saturday and Sunday, October 7-8, 2017, with the rain dates October 21-22.
Where: Summit Field, South Mountain Reservation
Who should attend?
This event, now in its fourth year, is tailored to families with young children, generally from 4 to 12 years of age who have equipment to camp out..
Registration ends at midnight, Wednesday October 5th.  There is room for a maximum of 45 families; only a few spots remain open.
Purpose: The goal of this experience is to gently immerse families with young children in nature and to provide them with the tools to take the next steps toward further exploration on their own. The agenda is intentionally spaced out, with unstructured time sprinkled throughout. Families are encouraged to venture out on mini-excursions of their own or simply hang out around their campsites and relax.
For more information, click here
* * * * *
Upcoming Events:
Trail Work Crew
DATE, Sunday, Oct. 1, 9:00 -12:00 
Meet at Essex County Maintenance Area in SMR
We have started work on the half mile section of the new West Connector Trail which will take several months. Lend a hand. This is strenuous, but rewarding. For ages 15 and above.  Wear solid shoes and layers. For information, contact info@somocon.org, or call John Verzani, 973-223-3529. or Dennis Percher, 973-868-6994.Because Brookside Drive is closed to traffic on Sunday mornings, we need to meet at the County maintenance area (see map).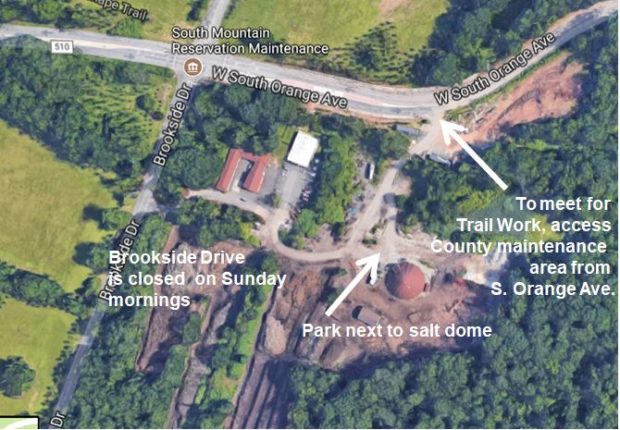 * * *
W. O. Lenape Trail Extension —
Ribbon Cutting 
At Lenape trailhead, across Rt. 10 from 2 Ellison Ave., West Orange, Sunday, Oct. 1, 3-4 p.m.
Join members of the Conservancy, the NY NJ Trail Conference, and West Orange government in formally opening this half-mile section which was finished in July after 15 months of SMC effort.
 * * *
Forest Regeneration Corps
Sunday, October 15th, 9:30-12:00,
Wildflower Preserve (10 Bear Lane, Maplewood)
 
Help plant native species and remove invasive plants, and maintain trails in the 14-acre Wildflower and Forest Preserve.  Ages 12 and above (adult supervision needed below 15).  Wear long pants, solid shoes, and layers.  For information, contact Tricia Zimic, 973-763-4668.
* * * * *
 SMC Mission
Through volunteer activities and advocacy, the South Mountain Conservancy serves as a steward and advocate for the South Mountain Reservation and helps to preserve, protect, and enhance its ecology, infrastructure and natural beauty.
Learn about our 2016 accomplishments and 2017 plans and become a member…. Find out more
* * * * *
Fairy Houses on Rahway Trail Gain Regional Attention  
* * *
CONTACT US:
P.O. Box 273, South Orange, NJ 07079
844-SOMOCON
info@somocon.org