July 17, 2014:  USACE to No Longer Consider SMR Dam-Detention Basin for Rahway Flood Abatement, Other Options to be Studied Further
Today, in response to public meetings and comments and a DEP review, John Moyle, Manager of the NJ Bureau Dam Safety and Flood Control, directed the US Army Corps of Engineers to no longer consider the dam-detention basin in the SMR for Rahway River Basin flood abatement.  Instead, the NJ DEP recommended that more economically feasible and less environmentally destructive flood abatement options be pursued.  
The 810-foot dam and 80-acre detention basin at the heart of the Reservation is off the table.
To all those who worked to oppose this misdirected flood abatement option, we thank you, especially the organizing by Save Our Reservation under the direction of former Maplewood Mayor Fred Profeta.  SMC, SOR and RAFSA (Rahway Alternative Flood Solutions Alliance) hope to work with the corps and Mayor's Council to ensure that further study is funded so optimal solutions can be implemented to reduce flooding in Millburn, Cranford, and other towns. The NJ DEP letter is below:
* * * * * *
Rahway Alternative Flood Solutions Alliance (RAFSA) and Save Our Reservation:   The SMC has joined forces with other environmental leaders, politicians, and a Mayor's Council of towns along the Rahway River, to oppose a possible US Army Corps of Engineers plan to construct (in the latest design) an 810-foot long, 75-foot high, earthen dam at Campbell's Pond to reduce downstream flooding.  It would create an 80-acre, mile-long detention basin that would destroy the heart of the Reservation and block Brookside Drive.  And, according to the corps' recent economic analysis, is barely justified.  RAFSA hopes to provide an alternative perspective and champion a more balanced, equitable approach to flood solutions along the Rahway River watershed.  Save Our Reservation, working with RAFSA members, has created a petition against the dam and e-mail campaign to help raise awareness of the dam option and organize opposition within the community.   RAFSA Formation Press Release (12-3-2013) RAFSA Position Statement (12-3-2013) Channel 9 Interview with Essex County Executive Joe DiVincenzo and former Maplewood mayor Fred Profeta stating opposition to proposed dam. April 7, 2014 V. Benes, A Current Perspective on Flooding in Millburn and Union Townships, Oct. 27, 2013, v.2 Original plan for 880-foot, 70-foot high dam located at Diamond Mill Pond with 110-acre detention basin.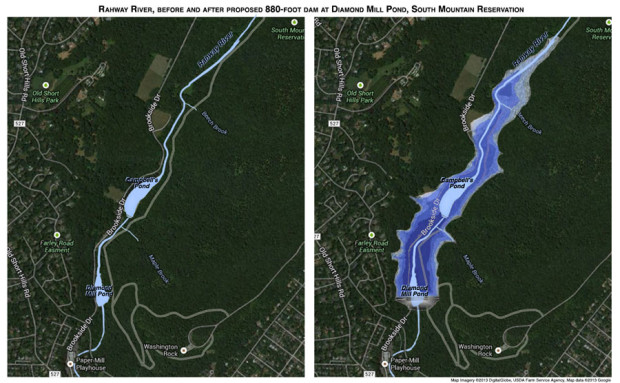 Current design (March 2014) for 810-foot, 75-foot high dam located at the north end of Campbell's Pond with an 80-acre detention basin.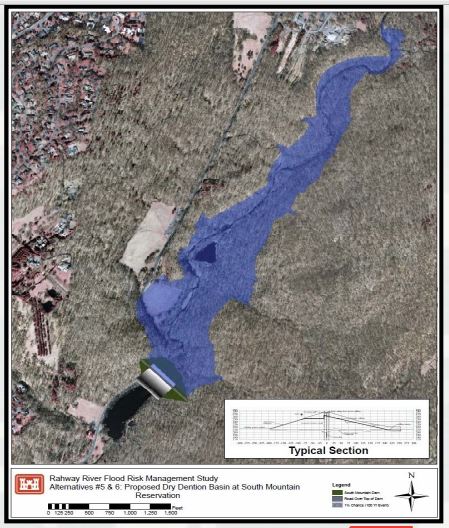 USACE Economic Feasibility Study – March 31, 2014 Economic analysis: Benefit/cost ratios and net benefits for 7 major alternatives with 3 minor modifications.   Ongoing environmental analysis will focus on the three or four options that have a benefit/cost ratio roughly greater than or equal to 1. USACE Rahway River Basin Flood Risk Management Feasibility Study: Overview of study and link to the July 2013 presentation outlining the seven alternatives to flood abatement, two of which include the South Mountain Reservoir. USACE: Summary of Rahway Flood Abatement Alternatives being Evaluated Interview with USACE Spokesperson on Benefit/Cost Ratio Analysis of 10 Flood Abatement Alternatives Presented March 31, 2014 Engineering Regulations for USACE Projects   Articles: Millburn Item. March 13, 2014. Groups oppose proposed dam in South Mountain Reservation Millburn Item, Dec. 26, 2013, RAFSA Group Opposes South Mountain Dam Construction   For more information, email: RAFSA@somocon.org